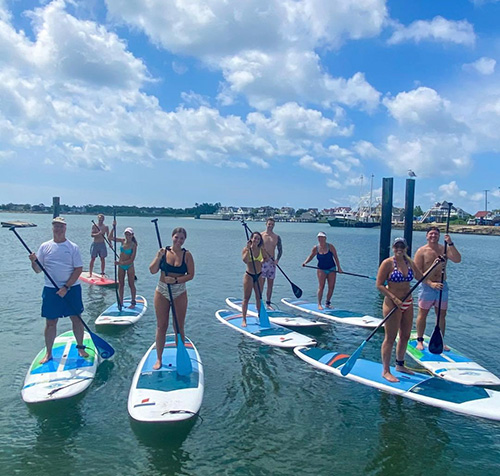 TOURS.
SUP LESSON & GUIDED HARBOR TOUR
Tours at East Coast SUP are an introductory lesson on the basics of stand-up paddle boarding, as well as a guided tour of the historic Cape May Harbor by our experienced instructors. The combination lesson and tour are tailored to be fun and informative and suitable for all ages and skill levels. Some restrictions may apply for smaller riders. Our tours generally last about an hour to 90 minutes. East Coast paddle boarding tours offer beautiful views and a great core workout! Private tours and group lessons are available, please contact us for more details.
You'll be stoked on how easy and enjoyable stand-up paddle boarding can be once you find your balance! Developed by combining the design aspects of the traditional Hawaiian long-boards and outrigger canoes, SUP boards are super stable without being too bulky.
Regardless of age or weight, you will begin to feel an elevated comfort level and gain confidence by using your legs and core muscles to maintain stability once on the water. You will discover that with the increased buoyancy of a SUP board, balance and coordination are relatively easy to master.
Our proven and progressive instructional methodology offers a step-by-step approach for your skill development. Your instructor will work with you both on land and on the water to master placement of your body on your board, hold your paddle, and utilize different paddling techniques for propulsion and steering.
The best way to get introduced into the world of SUP'ing is through personalized private instruction. Our private SUP lessons allow you to receive one-on-one instruction on the dock and in the water, ensuring your safety and an optimal learning curve. First time lessons consist of 15-20 minutes of our "Ground School", and approx. 1 hour of personalized water time. Second and consecutive lessons consist of all water time!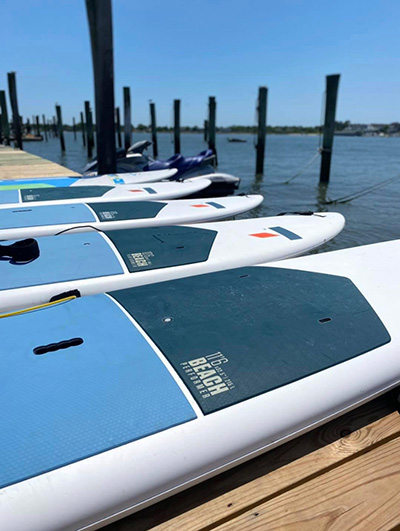 RENTALS.
SUP EQUIPMENT RENTALS
For those who are familiar with the sport, East Coast stand up paddle boards are available to rent by the hour, day or week. Equipment rentals are for experienced riders only, brief dockside lesson included. We also provide a local delivery service for weekly rentals.
OUR EQUIPMENT AND PROCEDURES
SUP has two different types of boards; 11'6" models and 10'6" models. Our instructors know best when it comes to who should get what board based on rider size and capability, let us match you with the right board from our selection.
Both fixed and adjustable paddles are available, we can accommodate any rider no matter their height.
We do recommend lifejackets, but they are not required. The board you are attached to acts as your flotation device.
Sadly, the weather is not always on our side. When the winds are over 15 mph we may be forced to cancel our tours for safety reasons. We may also cancel tours due to inclement weather conditions. In the event that a tour is canceled due to weather or wind we can reschedule your tour for another day or launch time, or offer a full refund.
Pricing
Group lessons are available. Reservation required. Prices do not include tax.
| Item | Price |
| --- | --- |
| 1 hour rental (includes lesson) | $29.95 |
| 2 hour rental (includes lesson) | $34.99 |
| 90-minute combo private lesson & guided tour | $39.99 |
East Coast SUP
Waivers
To sign aWaiver by this link, the device you are using must have a camera and microphone.